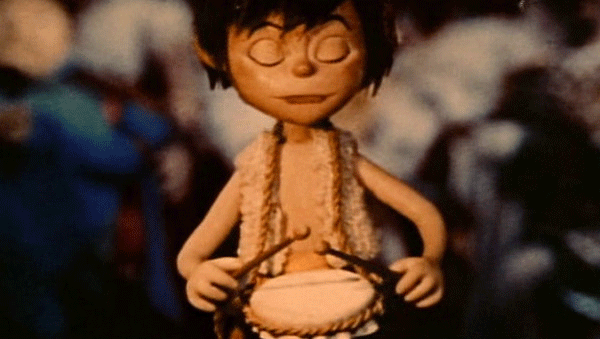 Some of the songs we sing at Christmas are grand, expansive, universal. "Joy to the world/The Lord is come!/Let earth receive her King!"
Other are simple, personal. "Away in a manger/No crib for a bed/The little Lord Jesus lay down His sweet head."
"The Little Drummer Boy" is one of those very simple and personal carols. Here is the lyric (with the pa rum pum pum pums removed):
Come they told me, a new born King to see.
Our finest gifts we bring to lay before the King.
So to honor Him when we come.
Little Baby, I am a poor boy too.
I have no gift to bring that's fit to give the King.
Shall I play for you on my drum?
Mary nodded,
The ox and lamb kept time.
I played my drum for Him.
I played my best for Him.
Then He smiled at me, me and my drum.
The world doesn't understand this kind of gift. Our culture demands that we search until we find the "right" gift, the "perfect" gift. Frankly, our world makes Christmas difficult. It turns the Christmas story into something it was never meant to be.
In our culture the simple gift of the Little Drummer Boy is simply not good enough.
To give a simple gift is an act of faith. Not faith in ourselves, but faith in God. It is a faith that says, "God made me just the way He intended for me to be. He blessed me with gifts He wants me to use to bless others. I give my best gifts when I give of myself."
I recently read an article about the paradoxes between our culture and the Christmas story that are explored in this simple song. (You can read the full story here)
Every bit of the Christian story, in the context of its time, was profoundly subversive. Poor boys were not to be kings. Salvation was not to be found in death. Humility was not to be celebrated. When a world-devouring empire executed a minor nuisance, that was meant to be the end of the matter. Christ changed everything, broke every rule, shattered every pretension.
In his own way the Drummer Boy does something similar: he shows a different and more moving way to give of ourselves, to do what we can, without pride or worldly ambition: "I played my drum for him / I played my best for him." His simple reward is fitting of the humble scene: "then He smiled at me."
"The Little Drummer Boy" is a welcome reminder that our best gifts this Christmas will be those that are simple and personal.
Merry Christmas!
http://boldworship.com/wp-content/uploads/2022/12/bw-logo-no-tagline-transparent.png
0
0
Kyle Hill
http://boldworship.com/wp-content/uploads/2022/12/bw-logo-no-tagline-transparent.png
Kyle Hill
2014-12-20 18:38:49
2016-12-28 16:51:29
The Little Drummer Boy